Saturday, October 20th, 2012
I have spent most of October back on the block, working towards finishing the walls by the end of this month. The good news is it looks like we'll finally make a deadline with 4 honest days' work left to complete the ninth level of the external blocks.
Here are a few pic updates of what's happening around the place.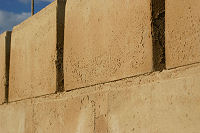 Pic 1 above is "Tweety" the mixer. It is a beast of a machine and has been working even harder than the mixer we killed before. Pic 2 shows the only real damage almost 5 months of cold miserable weather has caused to the existing walls with the blocks becoming "face blown". Not a great deal to us since we're more interested in a house with character than one which is clinical perfection. Pic 3 is where the first of the aquaponics sheds will go, once the roof is on the house.
Pic 4 below shows the woodlot planted around 3 years ago. Many of these gums are now over 2 metres tall and should be ready to start harvesting in another 2-3 years.